Last week I met this chap at my local Yamaha dealer.
We chatted for a while and eventually he would tell his view of the 1983 Anderstorp incident with Kenny Roberts. Unfortunately, I didn't find a clip to show you but the pic below shows how both ended up and left Freddie with the 1983 title.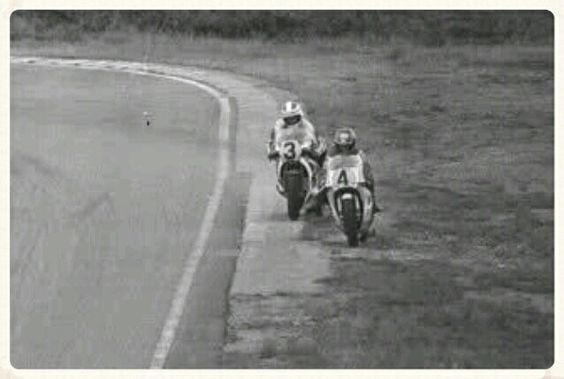 As you may know, Anderstorp was one of these airport circuits. On the last lap, and with the 500cc championship at stake for both Spencer and Kenny Roberts, Spencer overtook Roberts in a way which left Kenny bitter for almost one and half decades. It wasn't until 2016 until both settled their years long argument on the outcome. However, here is Freddies view of what happened.
Both left the long airport runway for the following right hander and apparently Kenny had the habit of sitting up lightly before he would apply the brakes, trying to indicate indicating that he was already braking. Now Freddie had found Kenny doing this more than once already and so he just concentrated on when Kenny really would use his right hand.
The end of the story is well known because both were way too late. Kenny when he pulled the brake and Freddie even later but I actually wonder whether Kenny really was bitter about being run off or if it was much more about being found out applying the braking trick.
The afternoon went on and we chatted a bit about the Isle of Man. Freddie told us that he once was to do a demo/parade lap past the racing which just had ended with another Joey Dunlop victory. It was getting foggy and on the Mountain there was almost zero sight. Freddie said he did around 100 mph before coming out of Ramsey and started his climb of the mountain to go down to cruising speed because of the low sight. Afterwards he met Joey who just had won his race prior to the parade lap and asked how he possibly could have done it. Joey just replied that he counted from landmark to landmark. 1001, 1002, 1003 .... braking, turn in, apply gas 1004, 1005 ....
Even Freddie had to acknowledge that these boys are different breed altogether, in an admirable way he added.
It was a lovely afternoon, it really was