Forum Administrator

Posts: 37297
Joined:

16 years ago

Real Name: Paul
Favourite Motorsport: Formula 1
Favourite Racing Car: Lotus 49
Favourite Driver: Gilles Villeneuve, James Hunt
Favourite Circuit: Nordschleife
Location: U.K.
Contact:
Latest post of the previous page:
Very unusual layout for a racing circuit.
King of the Race Track, Destroyer of Tyres, Breaker of Lap Records
---
Gold Member

Posts: 878
Joined:

13 years ago
This proposal was already on the RCDB, still original plans are always good to have.
What surprised me was where the track was positioned in it. Quick overlay, assuming orientation is right on the RCDB, S/F would have been on the downhill from the turn in of T2 to the about where that section flattens out. And the run into Moss is more of a esses section than a diving left.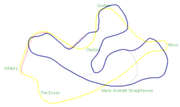 ---
Ultimate Member

Posts: 26675
Joined:

14 years ago

Real Name: Chris
Favourite Motorsport: Anything that goes left and right.
Favourite Racing Car: Too Many to mention
Favourite Driver: Raikkonen, Lauda, Clark etc
Favourite Circuit: Nordschleife, Spa, Mt Panorama.
Car(s) Currently Owned: BMW 330C M Sport Coupe
Location: 8 kms from Albert Park, Melbourne.
Not being picky or pedantic but I think you will find that is what is known as the (Oran Park) South circuit.
The more recognised Grand Prix Circuit was an extension of the South Circuit utilising a figure of 8 section and I think introduced in 1974 when the Australian GP was held there for the first time (held there again in 1977).
I also think the original South Circuit had an extension of some 300 metres a year or so after opening and well prior to the GP circuit being introduced. That is when it went from being the initially oil sealed dirt track to a fully sealed one,(late 1964/early 1964) extending from 1.6 klms to just over 1.9 klms.
The Grand Prix section of the track added in '74 was also designed to be used as a circuit in its own right and was known as the North circuit.
There was also a very slightly altered version of the GP circuit used for and known as the Motorcycle GP track. (This had a very slight curve added into the figure 8 section.)
The SOuth Circuit was also in later years floodlit, and used for Australian NASCAR / AUSCAR night races.
Edit. I just clicked on the image above and it actually opens an image of the Grand Prix Circuit so maybe I have jumped the gun with this post.
Certainly even the South Circuit above was NOT unchanged from 1962-2010 as stated above.

*My woman cant wrestle. But you should see her box!*

*I married Miss Right. Just didn't know her first name was Always
---
Gold Member

Posts: 878
Joined:

13 years ago
No worries about being pedantic, I'm happy someone knowledgeable looks over the work for some errors. That said I think I got everything cover you mentioned.
We start in 62 with the above image which gets the extension past the dogleg in 64. That could be 63 or 64 as you mentioned, but I think the work was done primarily after the 63 season. I dont take oil sealed vs tarmaced into consideration. After the extension I call the circuit the GP circuit until the 74 extension that added the crossover when it becomes the South Circuit.
1979 adds the tangle of tarmac strips in the North loop for the kart track.
1985 takes out a left hander prior to the bridge, which is still used for the bikes
1999 adds more Kart track variants and 2001 adds the new pitlane.
Plus the MX track which is sourced from
https://www.youtube.com/watch?v=ub8ySsB_NVE&t=169s
and the dirt track which only shows up in the satellite images.
There is a build but unused dragstrip I havn't drawn and I've also found a mention of a planned extension from 86 but it's only a single line nothing substantial.
The 1962-2010 refers to the whole circuit not just the 1962-63 original layout. If you havn't found the buttons that switch between the different years scroll down, they should be just below the picture and in the row below you have the various layouts for that particular evolution.
---
Gold Member

Posts: 878
Joined:

13 years ago
In other news, I've updated
COTA
and Ecce Homo
---
Gold Member

Posts: 878
Joined:

13 years ago
Added Readville Speedway south of Boston. One of those ex horse tracks that became a racetrack. It also operated as a boardtrack for a short while which requires another colour of track. Question is does the colour read as wood? I'm not quite sure it does. Click the picture to get to the DB and compare against dirt.
---
Ultimate Member

Posts: 15552
Joined:

15 years ago

Real Name: Erwin Greven
Favourite Motorsport: Endurance Racing
Favourite Racing Car: Lancia Delta 038 S4 Group B
Favourite Driver: Ronnie Peterson
Favourite Circuit: Nuerburgring Nordschleife
Car(s) Currently Owned: Renault Clio 1.2 2003
Location: Stadskanaal, Groningen
Contact:
I think it works.
Brian Redman: "Mr. Fangio, how do you come so fast?" "More throttle, less brakes...."
DJ at
www.metalmessiahradio.com
*** Every Tuesday 1pm - 4pm EST.
---
Advanced Member

Posts: 2020
Joined:

4 years ago
---
Gold Member

Posts: 878
Joined:

13 years ago
Thanks, looks like I need to update Riverside.
---
Advanced Member

Posts: 2020
Joined:

4 years ago
Mallala, 1961, "longer configuration"
Source: https://www.facebook.com/groups/190760908334658/
---
Gold Member

Posts: 878
Joined:

13 years ago
Beijing's Goldenport Park
@PTRACER
did something change server wise? I had trouble connecting the usual way, my old FTP client mentioned something about non TLS connectiong being refused. Also I could have sworn I uploaded the Ecce Homo files, but that could have just been my brain playing tricks on me.
---