I'm back home and the first few photos are done.
It was another great weekend in the southeast with meeting old mates and making new in the paddock.
Outstanding performances were Davey Todd's victory in the second, already wet, open superbike race as well as Julian Trummers victory in the 2nd supersport race. We had a couple fallers due to the increasingly bad weather on Sunday and I hope Nadieh Schoots, Nico Müller and Shaun Anderson make a speedy recovery. On Saturday, I witnessed Sebastian Frotschers accident at the chicane but thankfully he limped away. The final IRRC Superbike race fell victim to the bad conditions out there.
Unfortunately, I haven't got result sheets so far but I'll add them as soon as they are available.
PS. Given the shit weather everywhere last weekend, I hope our
@Jacob
stood halfway dry at the DLC 6h in Oschersleben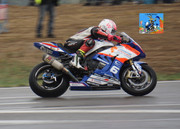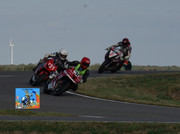 In first pic, Davey Todd storms to victory during the second Open Superbike race. In second pic, Dean Osborne leads Shaun Anderson and Robert Heitzinger into the Jugendkurve during P1 on Saturday