A couple days early this year and not post event either. Actually, I'm not sure whether it fits here at all since it is a classic fair for both motorcycles and cars mainly but contains a race package, regularity runs, over the weekend as well.
The reason I'm posting pre-event this time round is, that this year I'll be part of it rather than just snatching the odd photo. Not in the racing but in the classic fair. So let me explain, how it came to it first.
In early January, along the main members meeting at my fire station a mate who became group leader (and I his vice) during the meeting would start chatting about our 50cc classic mopeds. The usual stuff, problems in finding spares, the right carburetor setup, changing transmission ratios etc. .
During our chat, I pointed him to the Technorama fair on the airfield in Hildesheim, which is a pretty good source for ancient spares. I know this from my previous experience since going for the first time in 2014. Now, in previous years it used to clash with our townships fire station competition but this year. I used to skip the competition while my mate usually went for it.
While we two kept on chatting, a couple of the just freshmen joined in, all between 16 and 18. It turned out that each of them still got one of these 50cc classics at home and that they were eager to do a little tour with a group. We agreed to do it on the first weekend of September in riding down to the Technorama. The fact, that every oldtimer and their respective drivers getting free entry, might have played a role here.
For me, it would have come a week after returning from the Manx GP, but I learnt a couple weeks past returning from the TT that I had to cancel the Manx for falling into healthcare funding past an overdue shoulder operation and due to the funding would not been allowed to travel abroad. So I went to the Sachsenring Classics at the end of June and learnt there that my mates from the Golden 50/125cc paddock, Aalt Toersen and Jan de Vries as well as their wives, would not be over at Hildesheim this year. A bit of a blow but no reason to not go.
Since the Manx got taken out of my hands and I got lots of time on my hands, I started overhauling the first bike, a Kreidler K54/421 (RMC) from 1977. Overhaul turned out that she's running a different engine to what would be supposed to be the core unit. In this case, a 2.6hp / 50cc single / 3-speed only built between 1965 and 1968. Once I found that out, it also got to my attention that she sported a dead wrong carburetor.
Amazingly, driving my car leaves me with a dead sore shoulder after five corners even four weeks post-op but riding motorcycles was possible just 2 weeks post-op and pain free as well. So I undertook a couple of test rides to find her almost dying whenever I got into the final 3/4th of throttle position. Worn out piston rings demanded a replacement and another carburetor with almost original setup got swapped in.
The testrides also turned out that she's shattering bad under front brake so I've ordered a new pair of drum pads and two main jets, in order to get a less rich mixture under full throttle. I'll try now to get the main jet as close as possible and only then start to play with the timing.
Spares should be here today or tomorrow.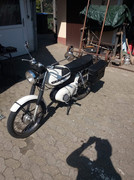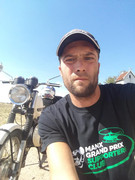 Meanwhile, a mate with whom I usually do tours on the big birds, claimed interest in coming along but has no ride to fit in. So I pulled out my Zündapp 515-041 from 1966 with its 2.6hp / 50cc / 3-speed and started testrides on this wee bird while waiting for the Kreidler spares. She runs smooth, just a bit lazy on uphill stretches. So again, I'll have to play with its main jet. For now, I'm on schedule so lets wait & see, how it turns out