Sachsenring Classics 2018 / FIM Sidecar World Championship
What a weekend this was.
I got invited by a now ex-mate to give his grid helper for his 80cc Derbi and was awarded a pitlane access ticket in the process just the weekend after I had returned from the TT.
Meanwhile, a Kiwi lady marshal from England who I marshaled with at Quarry Bends, picked up on it after I carelessly posted on Facebook that I`d go.
Said lady marshal arranged her travels and would join me on Friday but before she arrived all hell broke loose.
I had arranged with my mate that my friend and I would sleep in the back of his Transit, as well as that I was to ring him up on arrival so he could pick me and my travel bag up. For my marshal friend I had brought a second set of sleeping bag and air matress. I`d have brought my tent but was told that there'd be asphalt only.
On arrival Thursday afternoon, I tried one long hour to ring my mate up but he never got back to me, so I decided to walk through the four paddocks and look out for him. When I finally found him past the grandstand at the exit of the Omega, I wasn't even greeted hello but with a halfway grumpy 'Try your luck', pointing to a mess of tent tubes belonging to the tent of his newly bought camping trailer. He told me that he bought the trailer two weeks ago but didn't built up the tent to look whether it was OK. It turned out, that half of the tubes were trash and so I went on to construct an alternative from the remains. When I had it finished standing with quite some duct tape to fix some mounts, I wanted to take it down because there was still the tents plane to pull around the trailer. But my mate refused to take the frame down again and so we went on to pull the plane around the trailer and the frame. As if it wasn't tough enough without since it turned out that the planes mount wire was broken in places as well. In the process, I ruined my already ruined left shoulder further and it would stay sore the entire weekend.
But that alone wasn't enough. My mate insisted on 102 Octane fuel for his race bike and made me finding a fuel station on my mobile that would have it. Since my car was still in the main parking he asked whether we could take it in order to bring it in on another guys paddock parking sticker. Off we walked, me telling him where I had parked up. About halfway he asked again and I already wonderecd what he was on about. When we finally reached the parking gate, he'd happily told me that we could have taken a way shorter way.
Not enough of it still, though. I had to use my mobile to find directions, being completely new to the region whereas he obviously been a couple times already. So after about 20min we reached said fuel station on the outskirt of Hohenstein-Ernstthal, where he again happily told me that he could have directed on a much shorter way. I was already fuming but said nothing and got me a couple beers instead. Lately, I do not take painkillers because my tummy acts up so I have a couple cans as I prefer a light headache over an overacting tummy. And truth be told, I was more thinking about my shoulder than my mate.
We'd return into paddock and wired the alternative tent structure to the wheels of my car, because the tent was about hopping away in the wind. We'd have a bit of dinner and I 2 of my cans when the mate started for the first time. 'There's not enough space for two in the Transit', he'd say. Too sore, to really make a fuzz I just replied that I`d fit in two and half times and left it there. Went to my bedding at like 11.30pm in the back of the transit and had a brief sleep till 4.30am when my shoulder acted up again. I woke up, made me coffee and had a walk around which seemed to lower the shoulder pain a little. The mate wouldn't be up before 7am so I had a few more mugs till then.
When we had finished breakfast, he started ravelling again on how two persons wouldn't fit into the back of his van. Again, I left it there.
Only there and then I learnt, that my mate would be doing Presentation-/Demo runs only, since he kept me under the impression he'd be racing until then.
I photographed the first few sessions Friday morning until it was his run. It was raining and the track was wet. He was on about how he couldn't race in the wet on his 'race tires', which looked much like my normal road tires on the Fazer. I saw him coming by 3 times then he went missing. Asked his girlfriend where he'd be. She went pale and went to our enclosure. I followed her with distance. At the tent we found him and his machine. Mate pointed to the gasbar and pulled it off. 'lost the screw', he said and pointed to the rear brake where the lever was broken. "Locked solid", he said. For the gas bar, I dared to ask why it wasn't secured with wire. 'Loctite', he happily replied as he was too lazy to bore the screw heads for the wire. Since then I wonder whether he had a screw in there at all. At this point, it turned that he didn't bring anything of importance to fix such malarkies. No spares, no tools so he sent me around to people he obviously knew, but me, to get tools and spares together. I had another look at his rear brake since he argued that the overuseage of it past loosing the gas handlebar would have done it.
That was the the first straw. If just the gashandlebar came lose he could have stuck it back, kept the gas only lightly open and would of been able to roll home on the front brake. A closer look at the rear brake revealed to me that the calipers were not aligned along the disc so that the caliper basically had an angle over 0° to the disc, and since my mate insisted it came from the too much rear brake I started argueing that this definately not came from overusing and overheat, to which he quietly revealed that he had
'tuned' it a little. I became mardy, and my mood didn't lift once we had it fixed because the guys we lent the tools from all had to came back by themself to get there stuff back instead of my mate taking it back by himself. Another low point came a couple minutes later when I told him, that he could at least go down to supermarket and get the guys, who helped out, a couple cans. He looked at me like hit by a train or something and started how he ain't able to get them a drink. I just shook my head and fired up my gas cooker for another cuppa because I became pretty wet and cold during the repair process as it still was raining.
Sitting there, having my cuppa, my mate stated that his girlfriend doesn't want my friend around and that I better find a pension for her. I became angry and told him that he shouldn't believe for one second that I`d dump her somewhere alone. Friday late afternoon and I was to find a hotel or pension for me and my friend. No idea where to start I went to see my mate Armin, the only trackside TT merch merchandiser over here. He calmed we with a can and after having told him the story he helped me out by ringing a mate who
knew a mate. In between 5 minutes I had a doublebed for me and my friend about 20km away from the circuit.
So I went back to pack up and to get to the hotel in order to check in. By then my friend had messaged me that her Stuttgart-Dresden flight would be delayed and thus she wouldn't be able to take the earlier train from Dresden, which basically meant that I had to drive back to Hohenstein-Ernstthal to pick her up at train station by midnight.
While I was packing the girlfriend of my now ex-mate appeared and asked what I was doing. 'Packing', I replied single worded. She wanted to know why and I kindly told her what I told my now ex-mate before. 'No, no ... it was a misunderstanding. We just don't have enough food for three', she tried to get out of it. 'Ah yes', I replied, untied the bloody tent structure from my rims and went. I was that mad that I even threw my pitlane access band out of the window on the way out of the gate.
My like for people from Berlin and Berlins outskirts has not grown this weekend, one can tell. But from here it went smooth. I picked up my friend but due to the late arrival of 1am at the hotel we were unable to make the first few sessions Saturday morning, which wasn't too bad since I didn't want to see my ex-mate again because I`d have knocked him out.
Of course, I had to buy a weekend ticket now, had no pitlane access anymore and would have to pay the parking as well. But another mate of me from TT's sidecar paddock
helped me out and kindly lent me his for the Classic Kings run with Kork Ballington, Jeremy McWilliams, Raymond Roche, Steve Parrish to name a few. So I got some pitwall pics as well. Only funny thing then was, that I bumped into my ex-mate and his girlfriend down there taking selfies with the riders. When they spot me they wanted my pitlane access band back. I kindly told them to search for it at the paddock gate and to fuck off. Down there I also again met our own
@Jacob
, who progressed into a really good photographer, not far away from pro stages. It was really nice to bump into him again after having met at Schleiz last year for the first time.
The flipside to this mess was a real good 2nd half of the weekend with a real good lady friend. So I don't realy mind the first half, wankers will remain wankers.
Oh and if you ever should come across this presentation-/demo-/regularity run rider be aware
There you go, ex-mate Kai Beelitz and his 80cc Derbi: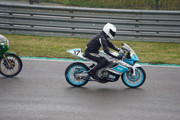 More enjoyable were these, despite the weather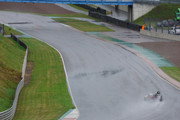 Sidecar Qualifying on Friday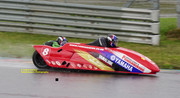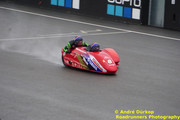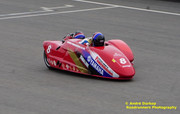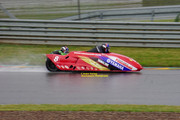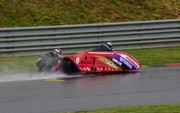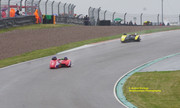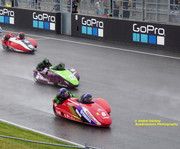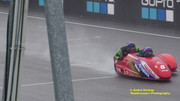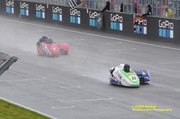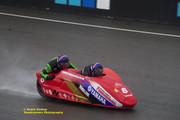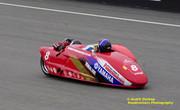 Alan Founds/Tom Christie during the weekend.
More to come later