Latest post of the previous page:
One of my photos from the Post-TT Superbike race at Church Bends on the Billown circuit on Saturday. Unlike on the Mountain Course, they do mass starts here. #52 James Cowton leads #6 William Dunlop with #36 Jamie Coward hanging in there.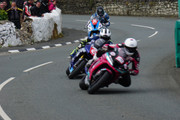 My second favourite photo from the Senior TT race on Friday at the Mountain Course. #24 Shaun Anderson is on the absolute limit here at Keppel Gate shortly past the light left bend down towards Kate's Cottage. He's followed by #32 Stefano Bonetti on a much smoother approach. If I had my elbow had hanging over the wall here, he'd shoved it off. It's brutally amazing here. When the bike comes past you get the full blow of air they punch forwards and it drops you back from chest upwards. I later chatted with a Penz13 team member and he told me that the Superbikes do something around 130mph here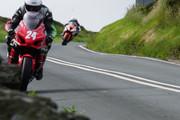 That's it for now as I`ve to go to physio and then do the laundry. I'll sort through my photos and will post a couple later.
Bye for now