Latest post of the previous page:
At this point layouts are done, just needs exporting and building the html file.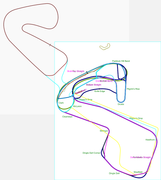 All that I need is some ancillary information, specifically when they stopped running CCW and when the kart track was build.
Sedre

wrote:

↑

I don't want to disrupt your Brands Hatch discussion, but I want to make some correction about "Tblisi" racing circuit in Georgia.

Actually, city's correct name is "Tb

i

lisi", but more interesting, there were two racing circuits in Georgia's capital.

First of them was street circuit located in Vake-Saburtalo district of Tbilisi, so it's usually was called as "Tbilisi" circuit. It held races of USSR Championship in 1960s before fatal accident in April 1967, where Volga of Bayzet Bedzhashev crashed into group of spectators, killing 6 people and injuring about dozen. Unfortunately, I don't found any circuit maps for this track.

Second one is located in city of Rustavi, about 12 km south-east of Tbilisi. It was built in 1979 and was one of most complex Soviet racing circuits - including nearby motocross track, kart circuit and area for racing triatlon (hybrid of autoslalom and some techniques from practical tests for driving's licence in Russia). Despite Rustavi was more developed circuit, it wasn't popular as it was located far from main auto racing centres in Union (Baltic countries, Moscow, Leningrad and Kiev) and organization of races was criticized, including work of firefighters and doctors (however, only recorded Rustavi fatality was Mikhail Loginov, who suffered heart attack during practice for round of USSR Touring Championship in 1989). After fall of Soviet Union, Rustavi was almost abandoned and rarely held official races, before in 2009 Russian-Georgian racing driver and businessman Shota Abkhazava bought it and reconstructed. It was reopened in 2012 as Rustavi International Motorpark.

Drawing in your database belongs to old Rustavi circuit (

http://www.ussr-autosport.ru/tracks/rustavi.html

), while new one have three different variants (I have some strange feelings to post there link to Wikipedia, but still:

https://en.wikipedia.org/wiki/Rustavi_I ... _Motorpark

)
Feel free to disrupt the discussion. Any information is appreciated, especially given that most of the page is outdated by at least 10 years. I'll plan on getting around to fixing it. Graphics will take longer, typos I'll fix when I upload Brands.