2019 Emirates Gran Premio de España PREVIEW
Just the usual update of an old preview for something to read.... and some piccies to look at. I left my reviews of old races in because I could.
It will be interesting to see what difference to the usually good numbers the lack of the Alonso factor will have.....
I realise it lacks an update on the Mongol situation. I can offer nothing more than to redirect you to the extensive summary of last year by our resident expert
@John
viewtopic.php?f=17&t=15482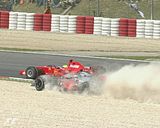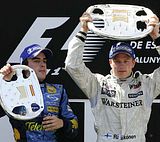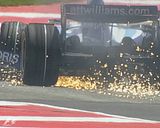 THE TRACK
Circuit length: 2.892 miles (4.656kms)
Type of circuit: Purpose-built permanent track
Number of laps: 66
Race Distance: 307.104 km
Lap record: Danny Riciardo 2018 1:18.441
Main straight length: 1,047 metres
Minimum track width: 11 metres
Main straight width: 12 metres
Turns: 16 (9 right-hand – 7 left-hand)
Gear changes per lap: 44
Fastest corner: Turn 3 - long sweeping, fifth gear right-hand bend, 146mph
Pit lane time loss: 22 seconds
Changes of wind direction can affect performance on the long main straight (previously suitable wing settings and gear ratios suddenly become redundant, for instance). The circuit is chiefly notorious, though, for its lack of passing opportunities.
It's an aero-track and everybody will run very close to maximum downforce despite the very long straight, so it is going to be the guys who find the highest amount of downforce who will probably be in a good position.
Kilos per lap: 2.30 kg/5km
Average fuel consumption per actual lap: 2.271kg per lap
Time loss per 5km of fuel: 0.08 s/lap of fuel (relative penalty at each circuit of carrying 5km of fuel.)
max speed: 306kph
Average speed: 210kph
Average corner speed: 144kph
Turn angle: 116°
Temperatures: Ambient 24°C / Track 36°C
Greatest power reduction: 1002 mbar pressure
Pit lane loss: 22secs lost
Pit lane length: 370m
While Catalunya is now one of the best attended races thanks to Fernando Alonso's rise, the track continues to provide one of the more sterile GPs of the season.
A BIT OF BACKGROUND
Although the Spanish GP has always of late been the start of the European eason, it used to always be the traditional launch for most new cars, with teams still using interim machines for the flyaways. Nowadays all that is changed, with new cars generally being launched for Melbourne. However Spain has always been if not the domain of new cars then the race when the first major updates show, and any other developments done by the factories while the race teams are away.
Traditionally teams have had the opportunity to test their updates prior to the race, but as we have no testing this year it will be a busy Friday. As such it is generally a time of year when we dont have any real firm guidelines to who will be top dog, and there are traditionally teams who suddenly pick their pace up here.
One of the quirks of Catalunya is that despite each team carryimg out many thousands of laps every year in testing, set up can never be just dialled in. Often it has been the case that a set-up determined during testing was no longer be the right one for the race weekend. As mentioned, every team in pit lane will be running an updated car to some degree. Ron Dennis always used to say people should not judge the pace of any of the cars until Spain, but of course this year has seen much interim updating .
Some History
The Spanish GP has actually been around in one format or another since 1913.... when the Spanish GP was first held for touring cars taking place on a 300-kilometre road circuit at Guadarrama, near Madrid, on the road to Valladolid. Motor Racing in Spain predates that even, with the Catalan Cup of 1908 and 1909, on roads around Sitges, near Barcelona. Both of these events were won by Jules Goux. Suffice to say Spain has a long tradition of Motor Racing.
I think this year will be the 49th running of a World Championship Spanish GP.
Venues: Pedralbes (1951 & '54), Jarama (1968, '70, '72, '74, '76-'79, '81) Montjuich (1969, '71, '73, '75), Jerez (1986-1990), Catalunya (1991-present)
Thanks in large part to Fernando Alonso's spectacular success in recent years, Formula One racing now has a huge following in Spain. However, ask the average fan to name another Spanish F1 driver and many will struggle. Perhaps that's not surprising, though, given that since 1951 only another 14 Spaniards have graced a Grand Prix entry list… with Pedro de La Rosa the second most successful Spanish driver ever its a pretty forgettable list.
The Circuit de Barcelona-Catalunya was built as part of the 1992 Barcelona Olympics development programme. The foundation stone was laid in 1989, while the first car race was a round of the 1991 Spanish Touring Car Championship.... Two weeks after the touring cars raced at Barcelona, it was Formula 1's turn. The track enjoyed a sensational debut, with Nigel Mansell and Ayrton Senna's famous eyeball-to-eyeball drag race down the straight, before Mansell took the lead and drove on to victory.
Recent winners:
2018 Lewis Hamilton
2017 Lewis Hamilton
2016 Max Verstappen
2015 Nico Rosberg
2014 Lewis Hamilton
2013 Fernando Alonso
2012 Pastor Maldonado
2011 Sebastian Vettel
2010 Mark Webber
2009 Jenson Button (Brawn)
2008 - Kimi Raikkonen(Ferrari)
2007 - Felipe Massa (Ferrari)
2006 - Fernando Alonso (Renault)
2005 - Kimi Raikkonen (McLaren)
2004 - Michael Schumacher (Ferrari)
2003 - Michael Schumacher (Ferrari)
2002 - Michael Schumacher (Ferrari)
2001 - Michael Schumacher (Ferrari)
2000 - Mika Hakkinen (McLaren)
1999 - Mika Hakkinen (McLaren)
1998 - Mika Hakkinen (McLaren)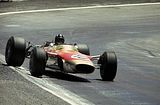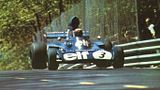 * This is the 49th running of the Spanish GP since 1951
* Five different circuits have been used for world championship races - Pedralbes (1951, 1954); Jarama (nine times between 1968 and 1981); Montjuich (four times between 1969 and 1975); Jerez (1986-90); and Montmelo-Catalunya (since 1991).
* The first world championship event was held in 1951 on the Pedralbes street circuit near Barcelona. Montjuich Park, in the centre of the city.
* In the 1960s, Spain made a bid to return to the world of international motor racing - the Royal Automobile Club of Spain commissioned a new circuit north of Madrid at Jarama, and Cataluña refurbished their circuit at Montjuïc circuit in Barcelona. A non-championship Grand Prix took place at Jarama in 1967, which was won by Jim Clark racing in a Lotus.
* In 1968, Jarama hosted the Spanish Grand Prix, near the beginning of the F1 season. It was agreed, following this event, that the race would alternate between Jarama and Montjuich.
* The 1975 Grand Prix at Montjuich was marked by tragedy. There had been concerns about track safety during practice races, and double-winner Emerson Fittipaldi retired in protest after a single lap. On the 26th lap of the race, Rolf Stommelen's car crashed when the rear wing broke off, killing four spectators. The race was stopped later and won by Jochen Mass, though only half the points were awarded. Lella Lombardi scored the only ever (half) point by a female in F1 (see below).
*Amongst the firsts recorded at Spanish Grands Prix,
- The Lancia team made their race debut in 1954;
- Frank Williams became a Formula One entrant for the first time (with a Brabham for Piers Courage) in 1969;
- 1970 brought the first win for March (by Jackie Stewart in a Tyrrell-entered car);
- 1971 saw the first win by Tyrrell as a constructor (Stewart again);
- 1974 was the first Grand Prix victory for Niki Lauda;
- 1975 witnessed the only Grand Prix victory for Jochen Mass in a McLaren, the Grand Prix debut of Alan Jones in a privately-entered Hesketh, and the only time a female driver has claimed a points score - Lella Lombardi finished sixth in a March.
(As a last it was of course also the scene of the last Williams win, them having won in a rather quirky result in the 2012 race.
* The Spanish Grand Prix has produced amongst the largest and shortest winning margins in a world championship Formula One race
- Jackie Stewart (Matra-Ford) finishing over two laps clear of Bruce McLaren (McLaren-Ford) at Montjuich Park in 1969, and Ayrton Senna (Lotus-Renault) beating Nigel Mansell (Williams-Honda) by just 0.014sec at Jerez in 1986.
* The closest five-car finish in a Spanish Grand Prix - and a spectacular sight - occurred at Jarama in 1981, when Gilles Villeneuve (Ferrari) led home Jacques Laffite (Ligier-Matra at 0.22 sec), John Watson (McLaren-Ford at 0.58sec), Carlos Reutemann (Williams-Ford at 1.01sec) and Elio de Angelis (Lotus-Ford at 1.24sec).
* Michael Schumacher is the most successful driver in Spain, with six wins, including the four successive victories from 2001-04 and seven pole positions. Mika Hakkinen, Alain Prost, Nigel Mansell and Jacky Stewart have all won the race three times. Ferrari lead the table of team wins in Spain on 10, followed by McLaren (eight) and Williams (six).
* Eleven Spanish drivers have taken part in their home Grand Prix - Paco Godia (1951, 1954), Alex Solar Roig (1971-1972), Emilio de Villota (1976-78), Adrian Campos (1987), Luis Perez Sala (1988-89), Marc Gene (1999-2000), Pedro de la Rosa (1999-2002,) and, of course, more recently Jaime Alguersuari, Fernando Alonso and Sainz Jnr. Not forgetting Roberto Mehri in 2015 for Marussia. This year will see only 1 Spanish Driver, Carlos Sainz Jnr.

Memorable Barcelona moments:
1991 - The very first race at Catalunya provided a moment of breathtaking action that remains one of the iconic F1 images. On a damp track, Nigel Mansell (Williams) jinked out to pass his great McLaren rival Ayrton Senna half way down the long main straight. The pair went wheel-to-wheel, with sparks flying off both cars, all the way into the braking zone for the first corner. Mansell was on the inside, took the position and went on to seal the race win.
1992 - Young Benetton star Michael Schumacher gave the world a first glimpse of the wet weather mastery that he would go on to show in the decade to come. In increasingly tricky conditions, the German, in just his 10th F1 race, kept the pressure up on the dominant Williams of Mansell to finish a career-best second.
1994 - Schumacher despite his Benetton becoming stuck in fifth gear 20 laps into the race, still managed to complete two pit stops and finish the race in second place behind title rival Damon Hill.
1996 - Schumi genius part three. In treacherously wet conditions, the reigning two-time champion obliterated the rest of the field to take his maiden Ferrari victory and one of his most astonishing ever. After botching the start, he overtook Berger, Alesi and Villeneuve to lead by lap 12 and then simply stormed away into the distance. His fastest race lap was 2.2s quicker than anyone else's.
2001 - Mika Hakkinen had been unbeatable at Barcelona since 1998 and was cruising to a fourth successive win there. But then suddenly on his final lap his McLaren started crawling around the circuit and ground to a halt with a clutch problem. It gave Schumacher the most fortunate win of his career and ironically the first of what would be his own quadruple Spanish success.
2007 - The memorable moment from last year came at the very first corner when home hero Alonso tangled with Ferrari's Felipe Massa. While Massa emerged unscathed from the clash and went on to win, his rival damaged his McLaren bounding over the gravel and had to settle for third.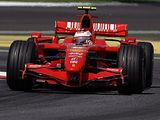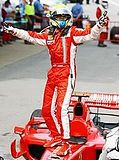 2008 - There were doubts that Super Aguri were even going to make it to last years race following their financial difficulties, and of course they were never seen again.. How things change in F1. It was only the year prior that the team were popping the Champagne corks, as Takuma Sato took Super Aguri's first ever point here lastwith a giant-killing run to eighth place.
2008 Race.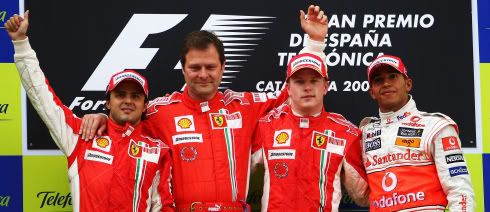 Räikkönen began the race from pole position alongside Renault driver Fernando Alonso. Massa began from third, alongside BMW Sauber driver Robert Kubica. Hamilton, the eventual Drivers' Champion, began from fifth and passed Kubica into the first corner, as Massa passed Alonso. Räikkönen maintained his lead through most of the race, leading to Ferrari's one-two finish. The safety car was deployed several times throughout the race, including for a serious crash involving McLaren driver Heikki Kovalainen, though the Finn escaped with only minor concussion. As mentioned it was also the last time we saw Super Aguri.....
The result promoted Ferrari to the lead in the Constructors' Championship, 12 points ahead of BMW Sauber and 13 points ahead of McLaren. Räikkönen extended his lead in the Drivers' Championship to 29 points, nine points ahead of Hamilton and ten points ahead of Kubica. Massa moved into fourth place on 18 points, with 14 races remaining in the season. It was Kimi's penultimate race win, with his last being Spa last year.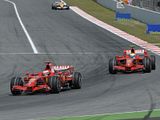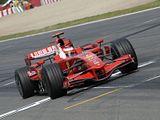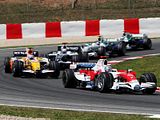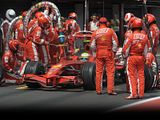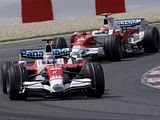 2009 RACE
2009 pole: Jenson Button (Brawn-Mercedes)
2009 fastest qualifying lap: Rubens Barrichello (Brawn-Mercedes)
2009 winner: Jenson Button (Brawn-Mercedes)
2009 fastest lap: Rubens Barrichello (Brawn-Mercedes)
Jenson Button won the Spanish Grand Prix, in Barcelona, in his Brawn-Mercedes, ahead of his team mate Rubens Barrichello in second place by 13.0 seconds. Mark Webber finished third in the Red Bull-Renault, 13.9 seconds behind. It was a race ending speculation that rivals teams had caught up with the Brawn team. He saw off a strong challenge from team-mate Rubens Barrichello, who seemed to have the race victory in his hands before the team switched him to a three-stop strategy. There was a bit of a Barrichello tantie over the way it panned out, until Rubens saw the data and that his inconsistency was more the problem.
After following Felipe Massa for most of the race, Sebastian Vettel in his Red-Bull Renault finished in fourth place, 18.9s seconds behind, when the Brazilian backed off to save fuel in the final laps.
Fernando Alonso (43.1s) was fifth in the Renault, followed by Massa (50.8s) in the Ferrari in sixth, Nick Heidfeld (52.3s) in the Sauber BMW was seventh and Nico Rosberg (65.2s) in the Williams-Toyota finished in the final points paying position.
Button took his fourth win in five races, his fifth career victory.
At the start Barrichello came from third to overtake polesitter Button into the first corner while Vettel was overtaken by Massa for third. There was pushing and shoving going on down through the field, which included Lewis Hamilton being shoved off the road by Nelson Piquet as they headed down to the first corner. Jarno Trulli came off the line slowly and this created much congestion.
At Turn 1 Fernando Alonso pushed Nico Rosberg off on to run-off on the left. As he came back on to the road he caused Trulli to go off into the gravel on the right and he then began to spin. While this happened Adrian Sutil went off on the left, which meant that in effect he was cutting the corner. As he came back on to the tarmac he found Trulli in front of him and there was a sizeable impact which sent carbonfibre and suspension all over the place. Sebastien Buemi braked hard and his team-mate Sebastien Bourdais drove into and over the back of him.
At the end of lap 6 the Safety Car came in and the race resumed. Into turn one Alonso passed Webber, but Mark repassed to hold the spot.
On lap 7 Hamilton passed Piquet for 13th spot, while his team mate Kovalainen slows, and retires with a broken gearbox..
At lap 10 Barrichello led his team mate Button by one second, followed by Massa, Vettel, Webber, Alonso, Rosberg, Glock, Heidfeld and Raikkonen in tenth place.
Barrichello continues to put in fast laps, slowly edging out his lead over Button by tenths of a second.
On lap 18 Glock is the first to pit from 8th place, staying on the softer tyre.
On lap 19 Button and Alonso, make their first stop for soft tyres..... this was when the Brawn team decided to switch Jenson on to a different strategy. It was high risk because of the big fuel load he had to deal with. On the track Raikkonen slowed and stopped, retiring with a hydraulic problem.
On lap 20 Barrichello pitted from the lead making a short stop, rejoining in third ahead of Button. Button was on a heavier fuel load and a two-stop strategy while Barrichello was on a three-stop strategy. Webber also pitted from fourth.
On lap 21 Massa and Vettel pitted, coming out together, handing the lead over to Barrichello once more, with Rosberg in second place, yet to make his first stop.
At lap 26 Barrichello lead Button by 10.5 seconds, followed by Massa (13.4s), Vettel (14.4s), Heidfeld (18.8s), Hamilton (20.4s), Webber (23.2s), Alonso (26.4s), Rosberg (30.4s) and Fisichella (36.8s) in tenth place, with Heidfeld and Hamilton yet to pit.
On lap 32 Barrichello pits from the lead, another short stop, staying on soft tyres and rejoining in fourth place. Heidfeld and Hamilton both pitted for their first stop, from fifth and seventh places. Hamilton rejoined right ahead of the battling Glock and Kubica.
A very long middle stint took Jenson to the front and he was able to stay ahead at the second stop. Barrichello faded in his third stint because he could not get the performance out of his tyres and he found himself having to hold off Webber.
At lap 35 Button led Massa by 4.5 seconds, followed by Vettel (5.3s), Barrichello (9.6s), Webber (14.2s), Alonso (21.3s), Rosberg (27.0s), Heidfeld (36.8s), Nakajima (38.5s) and Hamilton (41.6s) in tenth place.
On lap 44 Massa and Vettel both pit at the same time once again from second and third places, coming out in the same order in fifth and sixth - switching to the harder tyre.
On lap 45 Alonso pitteds from fourth place, rejoining in eighth place, edging out Hamilton in the first corner to stay ahead.
At lap 46 Button led his team mate Barrichello by 11.9 seconds, followed by Webber (14.9s), Massa (34.8s), Vettel (35.6s), Rosberg (36.1s), Heidfeld (42.6s), Alonso (56.0s), Hamilton (56.5s) and Glock (57.8s) in tenth place.
On lap 48 leader Button made his final stop and switched to the hard tyre. Hamilton pitted the next lap. Rosberg pitted from sixth place on lap 50.
On lap 51 Barrichello and Webber pitted from the first two positions, rejoining in the same order in second and third - handing the lead back to Button. Heidfeld also pitted from sixth place.
At lap 52 Button led Barrichello by 8.1 seconds, followed by Webber (10.1s), Massa (15.9s), Vettel (16.2s), Alonso (36.2s), Heidfeld (41.5s), Rosberg (43.5s), Hamilton (64.4s) and Glock (65.7s) in tenth place.
Vettel continued to chase Massa, but seemed unable to get close enough to make a passing attempt - while the Ferrari engineers tell Massa to conserve fuel or he would need to pit again.
Webber continued to slowly close in on Barrichello in second place, while Glock chased Hamilton for ninth place.
At lap 62 Button continued to lead Barrichello by 12.9 seconds, followed right behind by Webber (14.2s), Massa (23.8s), Vettel (24.1s), Alonso (40.9s), Heidfeld (51.8s), Rosberg (59.8s), Hamilton (81.9s) and Glock (83.1s) in tenth place.
On lap 64 Massa backed off his pace and lets Vettel past for fourth place - 13 seconds ahead of Alonso in sixth. On the final lap Alonso passes Massa for fifth place.
TECHNICAL REQUIREMENTS:
Aerodynamics
Aerodynamic efficiency is always a key factor at Barcelona, although the introduction of the new chicane a couple of years ago has replaced one of the most critical high-speed parts of the lap and means the track is not as demanding as it once was. A dumb track gets dumber. Even so, the circuit remains the ultimate test of a car's aero package and teams will run with high downforce levels to ensure competitiveness over the whole lap. There are lots of high-speed corners where good aero performance is critical. A good example is Turn Nine, a fast right hand corner taken in fifth gear at about 230km/h. You have to be very precise with the car as there is there is no room for error on the exit and it's important to carry good speed onto the back straight.
Suspension
With the suspension it is all about finding the best compromise to give the drivers a well balanced and responsive car. This means relatively stiff settings at the front of the car to get a good change of direction, while the rear will be slightly softer in order to get the best possible traction out of the slower corners. Getting a good exit out of Turn 15 is especially important as it leads immediately into the final corner and onto the kilometre long straight. Lose speed in 15 and you will be under pressure and vulnerable to attack down the front straight.
Ride height is also an important parameter to consider as generally teams will run the cars quite low in order to gain maximum aerodynamic performance.
Engine Performance
Barcelona is not generally thought of as an 'engine circuit' as the engine is not under particular stress as any point and only 62% of the lap is spent on full throttle. There are relatively few hard acceleration zones from low revs as the engine spends most of the lap accelerating from the middle of the rev range. As such, the priority is for the power delivery to be progressive and driveable in order to maintain the best handling balance, and limit tyre wear. Top end speeds are important, most crucially on the start/finish straight which will see the drivers flat out for over a kilometre.
BRAKES
Not really an issue at Catalunya, with few big braking zones and so many high-speed corners. A pity as this is taking away from key overtaking opportunities.
TYRES
The most prominent feature of the 4.655-kilometre Circuit de Catalunya track is the very long pit straight, but it's the combination of different corners that is very hard on tyres.
A LAP OF CATALUNYA WITH ROBERT KUBICA
"Barcelona is one of the best-known tracks for all the teams and drivers because of the testing miles we do there over the winter. The racing is never brilliant because it's so hard to overtake, but it's still a fun Grand Prix with a good atmosphere and enthusiastic Spanish fans.
"The track layout is quite interesting with a few high-speed sections, as well as a very slow final sector. This means that you have to find a set-up compromise to cope with the range of corners. In the past, I preferred to go for a balance that suited the low-speed corners and I would live with the car in the high-speed sections. I always felt it was better to have low-speed traction and a stable car under braking, especially if the weather is hot and you have a lot of tyre degradation.
"The start of the lap is really nice to drive in a Formula One car. The first corner requires heavy braking and you build up speed quickly through the next sequence leading into turn three, which is a really challenging corner, especially with heavy fuel. You have to judge where the limit is and the line you take will depend on how your car is behaving.
"Some cars prefer to take a wide exit from Turn Two and a tight entrance to three, while others will do the opposite and sacrifice speed on the exit of two for a wide entry into three.
"Turn Nine is an exciting and unusual corner because it's over a crest and you can't see the exit. It's one of those corners where you hope you don't lose the car because if you do it's going to be a big shunt. It's usually taken in fifth gear, with just light braking, before you're back on the power for the approach to Turn 10.
"Turn 10 is tricky and the cars usually struggle with braking stability because there are some small bumps in the braking zone. If you're suffering with tyre wear it becomes even more difficult, especially getting good traction on the exit. Then you're straight into Turn 11, which last year wasn't really a corner because you could really attack the low kerb and take it flat out. But this year, on heavy fuel loads, it should be more challenging.
"The end of the lap is now very low-speed and not as challenging for the drivers as the old layout. The final chicane (Turns 14 and 15) is particularly slow so it's important to have good traction for a clean exit because it affects your speed into the last corner and onto the main straight."
http://i92.photobucket.com/albums/l23/E ... riTeam.jpg
Multiple Spanish GP winners:
Wins Driver Years won
6 Michael Schumacher 1995, 1996, 2001, 2002, 2003, 2004
(3 Louis Chiron 1928, 1929, 1933 in pre F1 days)
Jackie Stewart 1969, 1970, 1971
Nigel Mansell 1987, 1991, 1992
Alain Prost 1988, 1990, 1993
Mika Häkkinen 1998, 1999, 2000
Lewis Hamilton 2014, 2017, 2018
2 Emerson Fittipaldi 1972, 1973
Mario Andretti 1977, 1978
Ayrton Senna 1986, 1989
Kimi Räikkönen 2005, 2008
Fernando Alonso 2006, 2013
Wins Constructor Years won
12 Ferrari 1954, 1974, 1981, 1990, 1996, 2001, 2002, 2003, 2004, 2007, 2008, 2013
8 McLaren 1975, 1976, 1988, 1989, 1998, 1999, 2000, 2005
Williams 1980, 1987, 1991, 1992, 1993, 1994, 1997, 2012
7 Lotus 1967, 1968, 1972, 1973, 1977, 1978, 1986
6 Mercedes (1934, 1935,) 2014, 2015, 2017, 2018
Red Bull 2010, 2011, 2016
2 Alfa Romeo (1933), 1951
After 2008