This weekend sees a return to the oil-rich Gulf state of Bahrain for the third round of the FIA Formula 1 World Championship.
China was a return to form for Grand Prix racing.Genuine organic overtakes, DRS Assits and even to a small degree tyre strategy played an important part as well. We also learned that DRS is apparently not so effective this year, cars struggling to gain any extra speed down that long, long straight.
Bahrain hasn't been seen as a particularly strong venue for Formula 1; however the races have been more enjoyable in recent years as the cars have evolved to suit the track. In 2014, we saw the almighty battle between the two Mercedes of Rosberg and Hamilton - the first time we saw a rivalry develop between them.
However, with Rosberg gone, 2017 is looking like it may be the year we get to see a Hamilton vs. Vettel rivalry instead. Two races down and the victories are one apiece. So, who are you putting your money on this weekend?
2017 FORMULA 1 GULF AIR BAHRAIN GRAND PRIX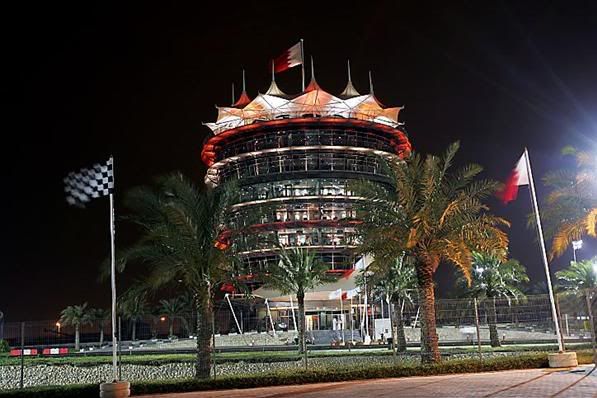 A BIT ABOUT BAHRAIN
The seventh annual Gulf Air Bahrain Grand Prix is almost upon us, and across the Kingdom there is enormous pride to be seen in its people in bringing the world's biggest annual sporting series to the region.
The Bahrain World Trade Center and Financial Harbour are open for business, the City Center Mall is thriving, new homes, leisure parks and the sheer scale of growth in Bahrain over the past years still stagger the visiting fans and media from around the world.
"Bahrain is now poised for its most important week of the year, in terms of our international profile as a country and in terms of bringing the most important sporting and social event in the region to the people," said Shaikh Salman bin Isa Al Khalifa, Chief Operating Officer at the Bahrain International Circuit (BIC). "Each year Bahrain grows in its achievements and I have never seen the country looking as fit and ready as it does this year."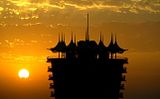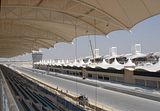 Since its inauguration in 2004, the BIC has received many prestigious accolades including the 'Best Organised Grand Prix' in 2004, 'Best Advertising Campaign' for the Almoayyed Tower in 2006, and now the only Grand Prix circuit to be an 'FIA Centre of Excellence'.
Since the BIC first hosted the Gulf Air Formula One Bahrain Grand Prix, the sport has taken root as one of the region's most-watched sporting passions. In that time the Manama skyline has transformed into that of a modern metropolitan city and new developments aimed at improving the employment, housing and social opportunities for a prosperous future continue to grow.
"The Formula One circus likes visiting Bahrain. Everyone's looking for more than just another paddock and there's a lively city near to the Bahrain International Circuit, where there are good places to eat and go out."
THE TRACK
FIRST GRAND PRIX 2004
NUMBER OF LAPS - 57
CIRCUIT LENGTH -5.412 KM
RACE DISTANCE - 308.238 KM
LAP RECORD
1:31.447
BY PEDRO DE LA ROSA (2005)
The circuit was designed with the spectator in mind, with 50,000 grandstand seats, all providing excellent views. Those spectators (a total of 100,000 over a race weekend) get to see the cars heading into the external desert area, before coming back into the oasis-styled infield. Up to 500 journalists can also witness the action from the venue's purpose-built media centre. Over 12,000 tonnes of stone were used in the build, a third of it Welsh granite, chosen for the track surface due to its excellent adhesive qualities.
Now the human story behind them: a (maximum) workforce of 3000 expended 8265 million man hours between November 2002 and March 2004 to excavate 968,459m3 of rock, to lay 120,000 tonnes of asphalt in three layers over the track's 272,648m2 surface (that doesn't include its 140,000m2 of run-off), to erect 8500 tonnes of steel and pour 70,000m3 of concrete.
And that's not all. They also had to construct 12,000m of guard rail, protect 4100m of it with 82,000 tyres and attach 5000m of FIA safety fencing. As a final touch they laid 5000m2 of grass carpet. To keep sand off the track, the
dunes have been coated in adhesive, but this only limits the problem.
Stats:
Maximum uphill slope: 3.60%
Maximum downhill slope: 5.6%
A relief that ranges from 0 to 18m
Three real possibilities for overtaking
Length of longest straight: 1090m (start/finish line)
Track length: 6,299m (3.91 miles)
Turns: 23 (10 left; 13 right)
Straights: 4
Width: 14m up to 22m
Longest flat-out section - 14s / 1.05km
Full throttle: 68%
Brake wear: Hard
Downforce level: Medium - 7/10
Tyre usage: Medium in the past but who knows with this years more durable Pirelli rubber.
Bahrain shares some similarities with Sepang, but the surface in Bahrain is smoother and due to the desert sands blowing constantly onto the track often provides less grip. Looking at the pic below, it looks more like an abstract painting, a beige-and-black depiction of a racetrack in the desert.
There's a real mix of corners at the Bahrain circuit and the long straights followed by tighter corners mean it's a good place for overtaking. It's quite tricky to find the right set-up, it's a medium downforce circuit so that always brings a compromise. And the changing wind conditions, the winds here can be quite strong, also make it harder to get the car working over the whole weekend.
There are six long straights at the Bahrain International Circuit and to achieve the maximum possible straightline speeds, the cars run with less wing than at either Melbourne or Sepang. The resultant reduction in aerodynamic grip creates balance problems through the twistier sections of the lap, where the overriding handling characteristic is oversteer. The circuit itself follows the template created by now famous track designer Hermann Tilke, and features long straights leading into tight corners to maximise overtaking opportunities plus the obligatory state-of-the-art paddock buildings and grandstands. The drivers admit that its slow, fussy corners offer them little that they can really get their teeth into. The key corners of the circuit are Turn 1, where the cars brake from maximum speed down to first gear, and the final corner. Both present potential overtaking possibilities.
As the circuit is located in the desert, the ambient temperature can be in the high 30s, although this weekend is forecast to be c30C. It's a dry heat, and shouldn't pose any reliability problems for the teams. However, sand from the surrounding desert poses a genuine threat to reliability because tiny particles get sucked into the car's internal systems and the teams have to be extra diligent in their cleaning processes. Filtration for the engines is always increased here because of the potential of the sand to damage.
To keep sand off the track, the dunes have been coated in adhesive, but this only limits the problem. Wind can play an important role in Sakhir as it influences the balance of the car. Also, despite the adhesive the wind blows sand onto parts of the track, which leads to changing grip conditions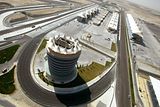 TIMETABLE
(local time)
Fri 14 Apr – Sun 16 Apr 2017
Practice 1Fri
14:00 – 15:30
Practice 2
Fri 18:00 – 19:30
Practice 3
Sat 15:00 – 16:00
QualifyingSat 18:00 – 19:00
Race
Sun 18:00 – 20:00
OVERVIEW
The Bahrain International Circuit is a track where traction is important because the circuit layout has a number of tight corners leading on to short straights.
The dusty / sandy nature of the track could mean we see more brake locking and flat spotting of the tyres given the extra weight of the cars this year. On the other hand wider tyres may give exta braking grip. However, drivers adapt, and Formula One drivers should be able to adapt rather quicker than the average driver.
Like half the races on the calendar, Bahrain is close to sea level, just 10m above, and has an average pressure (1,011 mbar), so engine power will be good. (Well, maybe not for McLaren..... although there is rumour they are testing a new engine in practice.
HISTORY
Sakhir saw Ferrari dominating the inaugural Bahrain GP and Fernando Alonso controlling the 2005 event. Subsequent seasons saw a little more excitement as Alonso overcame Michael Schumacher in a tense duel which set the tone for their subsequent championship contest in 2006, and Felipe Massa resisted a charging Lewis Hamilton in 2007, with Ferrari running to a dominant 1-2 in 2008. Last year Button of course was on his early season roll, winning from Vettel and the Toyota of Trulli.... Toyota locked out the front row in qualifying.
In 2008 Massa, having made mistakes in both opening races the year before last, been beaten up by the Italian media, took the lead at the start from poleman Robert Kubica and he held on to the advantage. Raikkonen went alongside the BMW on the outside at Turn One on the third lap, held on and managed to squeeze ahead. Once that was done there was not much to write home about, with Massa leading Raikkonen home in a formation finish. Kubica's apparent close 3rd was purely the Ferrari pair cruising the last laps. Heidfeld finished close behind.
Lewis Hamilton was very slow off the line, having mistimed engaging his launch program. Hamilton's team-mate Heikki Kovalainen, fifth on the grid right behind him, was only just able to avoid his car. Lewis got it all sorted out but he was ninth by the end of the first lap.
On the second lap Hamilton's day got worse when he ran into the back of Fernando Alonso's Renault, knocking off his front wing as he did so. That meant a pit stop and by the time everything was sorted out, with new tyres and fuel to go to halfway he was down in 18th place, with a big gap to the nearest car ahead of him. In the end he finished a lap down behind a Honda aand Fisi's Force India. Kovalainen finished fifth, with fastest lap, but he made a mistake early in the race, flat-spotted a tyre and suffered a vibration as a result, forcing an early pit stop for new tyres. Trulli was next up and was delighted with a trouble-free run, while behind him was Mark Webber, who was happy to pick up two points. Behind him was Nico Rosberg who took a point for Williams.
2009 it was a brain fade from Toyota that turned a front row grid into a very disappointing result for the pace they had, especially when one takes into account the fact Ferrari were by Bahrain well into their worst season start for many a year, in fact their worse ever if you consider that points were paid to 8th place and they still failed to trouble the scorers prior to Raikkonens 6th place at Bahrain. McLaren of course also had a pretty ordinary car, as did Renault, so Toyota's failure was even more a case of not taking advantage of an opportunity.
Button claimed his third win of the year by tearing his way through the field. He started fourth and was immediately passed by Lewis Hamilton, but he held on tight to the McLaren driver's tail and managed to out-brake him into Turn 1.
Previous Winners
We have had 12 Bahrain GPs in total.
4 of the current grid have previously won... 2 of then we can say stand no chance this year.
Driver No of wins
ALONSO Fernando 3
MASSA Felipe 2
VETTEL Sebastian 2
HAMILTON Lewis 2
SCHUMACHER Michael 1
BUTTON Jenson 1
ROSBERG Nico 1
Year - Track - Driver - Car - Engine - Grid Position started in.
2016 Sakhir ROSBERG Nico Mercedes Mercedes 2
2015 Sakhir HAMILTON Lewis Mercedes Mercedes 1
2014 Sakhir HAMILTON Lewis Mercedes Mercedes 2
2013 Sakhir VETTEL Sebastian Red Bull Renault 2
2012 Sakhir VETTEL Sebastian Red Bull Renault 1
2010 Sakhir ALONSO Fernando Ferrari Ferrari 3
2009 Sakhir BUTTON Jenson Brawn GP Mercedes 4
2008 Sakhir MASSA Felipe Ferrari Ferrari 2
2007 Sakhir MASSA Felipe Ferrari Ferrari 1
2006 Sakhir ALONSO Fernando Renault Renault 4
2005 Sakhir ALONSO Fernando Renault Renault 1
2004 Sakhir SCHUMACHER Michael Ferrari Ferrari 1
Previous Qualifying / Pole Positions.
2016 Sakhir HAMILTON Lewis Mercedes Mercedes
2015 Sakhir HAMILTON Lewis Mercedes Mercedes
2014 Sakhir ROSBERG Nico Mercedes Mercedes
2013 Sakhir ROSBERG Nico Mercedes Mercedes
2012 Sakhir VETTEL Sebastian Red Bull Renault
2010 Sakhir VETTEL Sebastian Red Bull Renault
2009 Sakhir TRULLI Jarno Toyota Toyota
2008 Sakhir KUBICA Robert BMW Sauber BMW
2007 Sakhir MASSA Felipe Ferrari Ferrari
2006 Sakhir SCHUMACHER Michael Ferrari Ferrari
2005 Sakhir ALONSO Fernando Renault Renault
2004 Sakhir SCHUMACHER Michael Ferrari Ferrari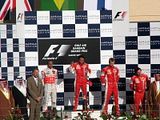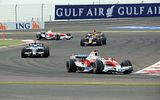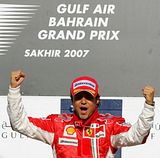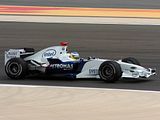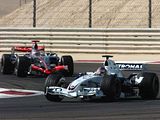 SETUP
The Bahrain circuit demands a compromise when it comes to aerodynamic set-up. On the one hand the many slow corners require a high level of downforce, while on the other the exceptional breadth of the track encourages the drivers to overtake, which means teams can't leave maximum speed out of the equation. So for car set-up you have to compromise between straightline speed and grip in the slower corners, which is quite a tricky balance to achieve.
With the low-speed corners, traction and brake balance play a major role. Brake wear on this circuit is particularly high, especially in the turn after the start-finish straight and in turn 4. At night the wind regularly sweeps sand onto the track. During the day the wind comes in across the desert and can change direction from lap to lap. This can make the cars a bit unstable if it blows in the wrong direction Generally conditions improve as the day goes on, but tyre wear can nevertheless be fairly high on account of the sand. That is an important factor for the race strategy."
The end of straight (EOS) speed at Bahrain was 303kp/h in 2008. Bahrain ranks as having the 8th fastest EOS speed on the 2009 calendar, and this is one indicator of the wing level typically selected to optimise the downforce/drag ratio. As the average speed around Bahrain is the 8th fastest of any of the tracks, a compromise is required.
BRAKES
The Bahrain race is one of the more demanding circuits on the brakes, being similar to Montreal as one of the most severe tests of the year. With three big stops from 320kph into first or second gear corners, the car needs good stability to avoid locking tyres during the race. UHD/HD (Ultra Heavy Duty/Heavy Duty) brake calipers will be used.
The frequency of braking is also significant, especially between Turns 4 and 13, where the brakes are constantly running at high temperatures without the chance to cool down.
The sand could create some problems with relation to the adhesion and the control of the car when braking, even if last year it didn't create any relevant problem.
Brembo information based on last year.
STRATEGY
The pitlane length and profile (i.e. corners in the pitlane entry) contribute to the determination of the optimum fuel strategy. The pitlane loss at Bahrain is approximately 23 seconds, the 5th most penalising pitlane in the Championship. To complete a normalised distance of 5km around the Bahrain circuit requires 2.66kg of fuel against an average of 2.42kg per 5km across all circuits this season, making the circuit the 4th least demanding track of the year in terms of fuel consumption.
TYRES
Pirelli announced the following compounds for Bahrain round of the 2017 Formula 1 season.
In BAHRAIN*, to be held from April 14-16 on the Sakhir circuit:
P Zero White medium
P Zero Yellow soft
P Zero Red supersoft
These are the tyres that must be available (at least one of them to be used) at some point in the race:
One set of P Zero White medium
One set of P Zero Yellow soft
There are the tyres assigned for Q3 in qualifying:
One set of P Zero Red supersoft
WEATHER
Guess what.... Dry dry and more dry. Hot, hot and more hot. Throw in a bit of sand.
Hour by hour Motor Sport Weather Forecast for the BIC (Sakhir) this weekend. (Links from there for variables such as track temperarures and other details)
http://www.myweather2.com/Motor-Racing/ ... spx?sday=3
Ferrari it seems generally favour (and perform better) in the warmer conditions.